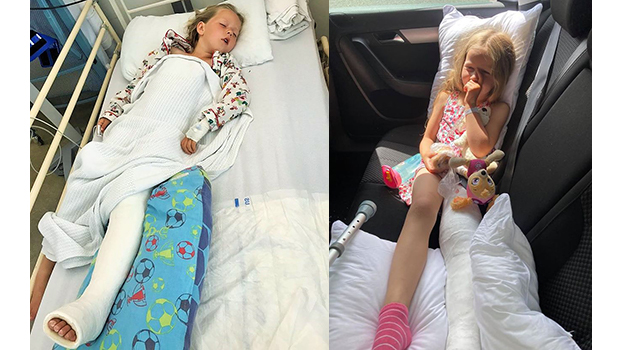 A 5-year-old girl has suffered a broken leg after being bowled over by two runaway dogs at Aberdour beach at the weekend. It is understood that she was taken by ambulance to Victoria Hospital and has a full-length hip-to-toe cast on her leg as a result.
Maggie Munro was playing with two sisters and a cousin when the incident happened. Her dad, Gregor Munro took to social media to express his anger at the incident.
"As a result of 2 medium sized dogs playing without owners controlling them and then running into a group of children (ours and in laws) on a beach in fife, our youngest daughter Molly just avoided the collision but our eldest daughter Maggie took the full brunt of the impact and suffered a broken femur.
"Result – a full length cast from hip to toe on her left leg for 6 weeks, not able to move other than assisted by both Mhairi and I. She can only do the toilet lying down and I will have to take several weeks off work to help.
"Whilst it is likely Maggie should come through unscathed longer term it might mean she has a limp or one leg longer than another. All a result of dogs not being "under control" around children.
You might say it is a freak accident but I was told by medical staff the same issue/injury happens with adults but they are better placed to absorb the contact.
"So, dog owners please be aware that your dog running at high speed in busy areas can be a risk to others. Lastly unlike the owners of the dog which hit Maggie and caused the injury please don't just offer a weak apology and then wander off and don't leave your details! Cowards."
A local Councillor, Alice McGarry advised contacting the dog wardens and the police regarding the incident, if he wished to pursue the matter further.
Comments
comments