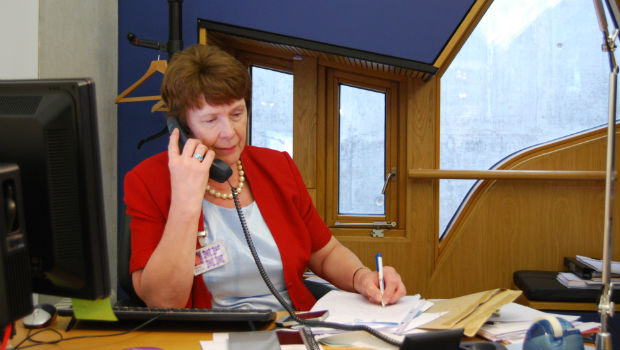 Tributes are being paid to Helen Eadie, Member for Cowdenbeath Constituency in the Scottish Parliament who has passed away. Mrs Eadie represented Dunfermline East constituency in the Scottish Parliament since it's inception in 1999 and following boundary changes in 2011, she was re-elected to represent the Cowdenbeath seat
Mrs Eadie was born in Stenhousemuir on March 7, 1947 and was educated at Larbert High School before graduating from London School of Economics. In her Scottish Parliament career she was the Deputy Convener of the Standards, Procedures and Public Appointments Committee. She has also served on the Health Committee, Public Petitions Committee, Subordinate Legislation Committee and the Bill Committee for the End of Life Assistance (Scotland) Bill. She was a local Councillor and full time official for the GMB union before her election to the Scottish Parliament.
Mrs Eadie is survived by her husband Bob Eadie and two grown up daughters. The heartfelt sympathies of the Fife News Online team are with them.
Tricia Marwick MSP, Presiding Officer of the Scottish Parliament lead the tributes, saying:
"This is desperately sad news and my thoughts are with Helen's husband Bob and her family. Helen was one of the kindest people I know and was devoted to her constituents and to making their lives better. As a fellow Fife MSP I worked closely with Helen on issues that affected all of Fife and I know of the hard work and commitment she brought to that. She will be very much missed."
Labour Leader in Scotland Johann Lamont described her as a "politician of tremendous passion and commitment".
She said: "Helen was very precious to her family. She played an important part in helping to establish the credibility of Holyrood. She will also be fondly remembered within the Scottish co-operative movement. Her commitment to delivering change in our communities was the essence of her political beliefs and values."
First Minister Alex Salmond commented: "My sincere condolences go to Helen Eadie's family, friends and colleagues.
"Helen served the people she represented diligently over the years, first as a Fife councillor and then as MSP for Dunfermline East and Cowdenbeath.
"Helen was also one of the Scottish Parliament's original MSPs first elected in 1999, and that unbroken 14-year period at Holyrood is a not inconsiderable record of public service of which her family can be rightly proud."
Comments
comments