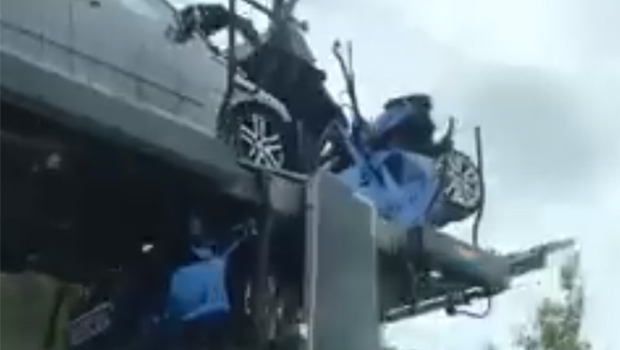 A fully-loaded car transporter crashed into a Fife bridge yesterday, leaving debris all over the road and destroying some of the cars it was carrying.
The incident happened around 12 noon yesterday on the A92 Southbound, just past the Redhouse Roundabout.
Mobile phone footage shared on the Fife Jammer Locations facebook page shows the extent of the damage, with one car with it's roof ripped off and debris strewn across the carriageway.
Police confirmed officers were called and no one was hurt in the crash.
A Police Scotland spokeswoman said: "Around 12 noon on 31st July, police called to a report of a lorry struck a bridge on the A92 near Redhouse roundabout.
"Officers attended and there are no reports of any injuries."
Engineers have been assessing the damage to the bridge to make sure that it is structurally safe, following the crash.
A spokesman for BEAR Scotland, which manages repairs on the trunk road, said: "We were notified of a car on a vehicle transporter making contact with the underside of the footbridge early this afternoon.
"Our TRISS (Trunk Road Incident Support Service) attended and noted some minor damage. As a precaution we have an engineer on site currently carrying out a further assessment of the structure."
Comments
comments