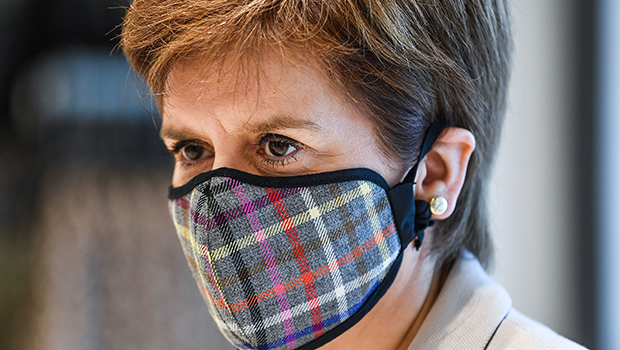 The First Minister used her daily briefing today to announce that as from Friday of next week (10th July), face coverings will become mandatory in shops. This is something that has already been in place on public transport and extending the measure would seem to be the next logical step in suppressing COVID-19.
Ms Sturgeon rejected the decision taken by the Prime Minister to reduce the distance used for social distancing and instead chose to follow the science on the matter which maintains that 2 meters is safer for everyone involved.
Other changes announced today included the lifting of the five mile travel restriction for leisure activities and a slight loosening of restriction around children meeting each other.

Children under 12 will now be able to meet up with each other without the need for social distancing, as long as they are outside in groups of no more than 8, drawn from no more than three households.

Older children and young people in this age group can continue to meet in groups outdoors as in existing rules (maximum of 3 households in the group, no more than 8 people in total). However, there is no limit to the number of these groups that the young person can meet in a day providing that each contact aligns with the guidance. They should continue to physically distance.
Announcing the changes, the First Minister said:
"As we move further out of lockdown, some rules will become more targeted and, as such, a bit more complicated. However, the basic foundation principles and hygiene measures remain as important as ever – each and every one of us must strike the right balance in order to keep the momentum of lifting lockdown going while protecting the progress made. What we are witnessing across the country is a sharp reminder just how highly infectious COVID-19 is, and how vital it is that we proceed with care and caution.
"That said, please take advantage of the fact that some rules are changing. Get out and about a bit more if you can and are able. Support your local businesses where possible – shops, outdoor hospitality and self-catering accommodation are beginning to reopen, travel distance restrictions are being lifted, and we are actively exploring further measures we can introduce – such as face coverings and 2 metre rule exemptions – that can get our economy safely back up and running even quicker.
"If you are ever in doubt, please remember our key guidance – the FACTS: face coverings should be worn in enclosed spaces; avoid crowded areas; clean your hands and hard surfaces regularly and thoroughly; 2 metre distancing remains in place; self-isolate, and book a test immediately, if you have symptoms of COVID-19."
More information can be found at: https://bit.ly/2C2eyvz
Comments
comments