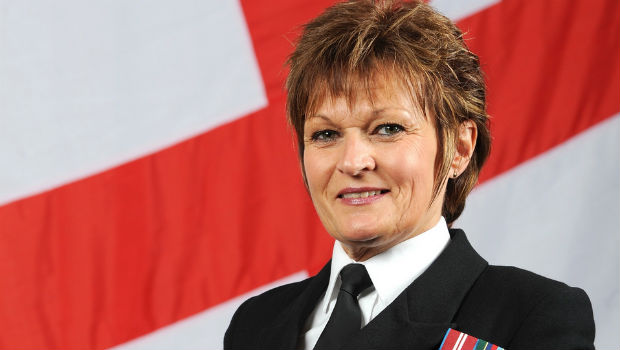 A Fife nurse has been recognised as a national leader for her influential role in encouraging healthcare providers to release employees to act as reservists in the Armed Forces.
Commander Pauline Small, who is Associate Nurse Director at NHS Fife as well as being the dedicated Armed Forces Chaplain, has been named on the first ever list of leaders, published by the Nursing Times magazine. The list celebrates influential role models who have used their exceptional leadership skills to shape and enhance the nursing profession.
A panel of ten judges assessed more than 200 nursing and midwifery professionals from across the UK, considering factors such as influence, activity and legacy.
John Wilson, Chief Executive of NHS Fife commented:
"Commander Small is a role model to not only those who specifically work within nursing and midwifery, but also healthcare professionals across the board. Her knowledge, skills and dedication to the development and continued support of staff within NHS Fife is invaluable to the work that we do."
Commander Small commented:
"I am both surprised and delighted to be honoured by the Nursing Times and join such eminent nurse leaders from across the UK on this inaugural list. My achievements as a Naval Reservist, influencing future policy and strategy for employer support at national level, would not have been possible without the support of NHS Fife as my employer. As an organisation they have assisted me in demonstrating that reserve service should be supported and is both valuable and valued."
Comments
comments