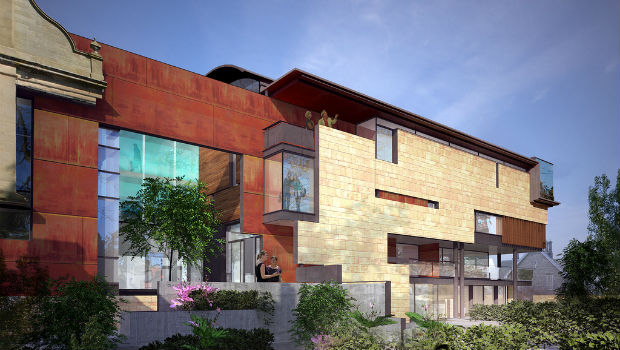 By Fay Sinclair
Hundreds of people have seen Dunfermline's £10.8m new museum and art gallery come to life before a single brick has been laid with the launch of a new visual flythrough video of the project.
The visual, which was presented to the City of Dunfermline Area Committee last week along with an update report on how the project was progressing, has now been viewed by more than 600 people online.
The modern, purpose-built museum and art gallery spaces will integrate with the historic listed buildings on site including the Dunfermline Carnegie Library. The museum will tell the story of Dunfermline's unique place in history through seven themes ranging from industry to royalty.
Speaking after the meeting, Chair of City of Dunfermline Area Committee, Cllr Helen Law said: "The flythrough really validates this hugely exciting project, bringing it to life.
"Many members of the community have already contributed towards delivering Dunfermline's new museum and art gallery. Volunteers have assisted with an onsite archaeological dig, cleaning and packing of the Murison Burns Collection and researching stories that the museum will tell.
"I think this visual representation will help to stir an interest within more locals and visitors to Dunfermline in anticipation of this remarkable facility that will be on offer from July 2016."
To allow site work to begin in April, Dunfermline Carnegie Library – Fife's biggest and busiest library – will close before the end of March, with services relocated around the city.
Laurie Piper of Fife Cultural Trust explained: "During construction the library lending service will move to the old Tourist Information building at 13/15 Maygate. PCs will be available in the City Chambers and Music Institute while the local studies service will be housed at St Margaret's House to ensure as full a service as possible remains on offer in the city."
Comments
comments