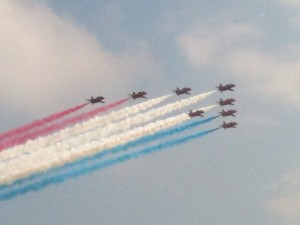 Yesterday saw the last ever Leuchars Airshow with 40,000 people flocking to the base in Fife to witness breathtaking displays of aerial acrobatics and precision. The RAF Typhoon squadron based at Leuchars is now being transferred to RAF Lossiemouth in the north of Scotland and the Fife base will now host the army instead.
The loss of the RAF Leuchars Airshow is a blow to the Fife economy at a time when economic recovery should be the major focus of all government decisions. To scrap an air show which has run for 65 years and to move the RAF from such a strategic position on Scotland's East Coast seems like a folly by the UK Government.
Campaigners from both sides of the independence referendum debate turned up to engage with the public at this major local event, though some people seemed surprised that Better Together were trying to hand them leaflets at the same time as the UK Government were intent on removing the RAF from Leuchars and bringing the long-running airshow to a close.
Better Together appeared to believe that the air power on display should reinforce the case for staying in the UK but their Yes Scotland opponents point to the fact that Austrian Typhoon aircraft were exhibiting, showing that even smaller nations can have top class air defence capabilities at their disposal.
Comments
comments