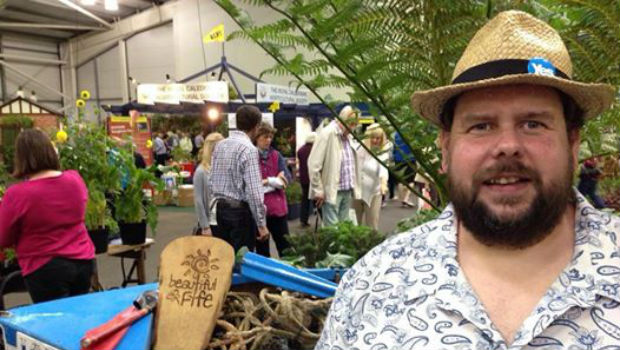 By Fay Sinclair
Gardeners from Fife have swept the board at a national competition just days after picking up the top award at The Chelsea Flower Show.
The Beautiful Fife display won three major awards at Gardening Scotland this weekend, receiving a Gold Award, Best in Floral Hall and the People's Choice Award.
The huge floral exhibit featured a boat from Kinghorn, a Falkland farm cart, dozens of planted wellies from St Monans and life-sized figures of Dill the Dog and Parsley the Lion from children's television show The Herbs.
A striking spider and web sculpture also featured will now be moved to Dunfermline's Public Park as a permanent piece of public art.
The Fife team had just five days to rebuild the exhibit at Royal Highland showground, Edinburgh, for Gardening Scotland after transporting each leaf and bud from London where it was awarded a gold medal and the prestigious Diamond Jubilee Award for best floral exhibit in The Chelsea Flower Show.
Fife councillor Brian Goodall visited the exhibition in Edinburgh. He said: "What a great way to celebrate Fife, and a very fitting tribute to the hundreds of volunteers all over Fife who make such a difference to our communities and environment through their horticultural efforts. I can't thank all the volunteers enough."
The display, which involved collaboration with South West in Bloom, celebrated 50 years of Britain in Bloom and also acknowledged the success of Fife Council's Beautiful Fife campaign, which encourages communities to participate in horticultural and environmental improvements. Beautiful Fife is becoming widely recognised throughout Scotland as the best example of a community horticultural campaign and has grown from 30 communities participating, to 60 communities in just four years.
Comments
comments