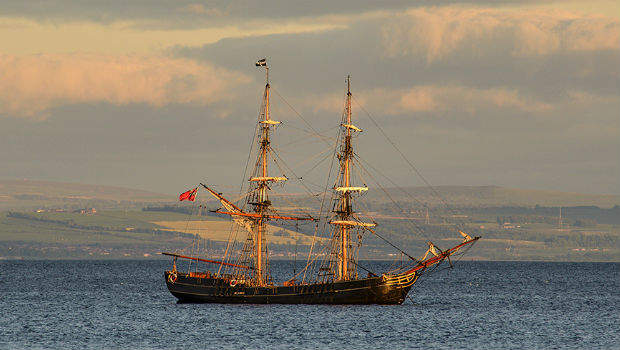 Photo Credit: Frank Marwick Photography.
The hit tv series Outlander is filming Season 2 in locations around Fife. A tall ship called The Phoenix is currently moored off the coast of Kirkcaldy, before sailing around the coast to Dysart for filming over the next few days. The tall ship, a two masted clipper from Portsmouth seems to be proving popular with curious locals and hardcore fans of the series alike. Fans have been flocking to Dysart ahead of filming commencing, hoping to catch a glimpse of the stars of the show.
Outlander is based on the best selling books of American author Diana Gabaldon and season two of the critically acclaimed period drama will follow the plot of second book in her best-selling series. Outlander follows the tale of Claire Beauchamp, a gifted physician, war medic and botanist who finds herself transported back in time to the 18th century in Scotland. A turbulent and violent period of Scottish history.
Pre-Order Season One on DVD from Amazon below.

Filming has so far taken place at Balgonie Castle, Falkland and Culross and the latest place to join the Outlander tourist trail is Dysart which is currently playing host to the cast and crew while harbour scenes are being filmed. Fife looks set to be in line for a major tourism boom because of the show, which has gripped audiences in the US and around the world. It is currently only available on Amazon Prime Video in this country. There was controversy recently when it emerged that UK Prime Minister David Cameron had a meeting with senior Sony executives to request that Outlander wasn't screened last year ahead of the independence referendum.
If you have yet to be caught up in the Outlander spell, watch the season one trailer below and see what all the fuss is about.
Comments
comments