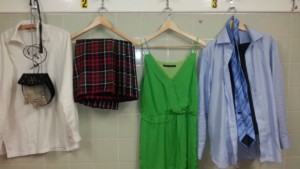 RNLI volunteers from Kinghorn proved their commitment to keeping people safe by abandoning the wedding of a fellow crew member following a callout. The volunteer crew had only just arrived at the wedding when their pagers alerted them to the plight of a boat which had suffered engine failure off Burntisland.
The crewmembers on duty then ran from the wedding in their kilts and dresses to go to the lifeboat station nearby and 15 minutes after being at the wedding they were with the stricken vessel.
Lifeboat helmsman Scott McIlravie commented, 'We were all surprised when the pager went off during the celebration of crew member Steven Wallace's wedding, but our crews are always prepared for this situation.
'We found the vessel was very close to the shipping channel, so when we arrived it was decided to establish a tow and we took the vessel to Burntisland harbour where we secured it alongside.
'The vessel was back in the harbour around 30 minutes later. We then returned to station where we washed and fuelled the lifeboat before returning to the wedding celebration around 10pm.
'Our volunteer crews are always ready to respond to the pager, whatever we are doing. We must have been the best dressed crew as we all ran to the station in our wedding outfits!'
Photo: RNLI / Liz Davidson
Comments
comments