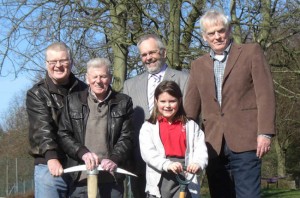 (Pictured L-R Townhill Mining Heritage Group leader Bill McCulloch, retired miner Joe Miller, Cllr Willie Campbell, Townhill pupil Poppy Aitchison & Cllr David Mogg.)
By Fay Sinclair
Work has begun on a memorial garden celebrating the mining heritage of the village of Townhill.
Local schoolchildren were joined by members of the community, ex-miners and local councillors at an opening ceremony for the garden in Townhill Park yesterday (Monday).
Retired miner Joe Miller (78), who lives in Townhill and worked in various Fife pits including at Cowdenbeath and Valleyfield, told Fife News Online: "I've seen the plans and I think it's quite nice. I did a talk at the school to tell them a bit about mining. The kids have been quite involved in the garden."
Pupils from Townhill Primary School have been involved throughout the design process for the garden, the first phase of which will incorporate an "education through play" and storytelling area.
A striking, themed mosaic created by pupils will form the focal point of a storytelling area.
Life-sized wooden sculptures of adult miners and children who worked in the pits, as well as a pit pony, all carved from fallen trees from Townhill Wood will also feature in the garden.
Leader of Townhill Mining Heritage Group, Bill McCulloch explained that what started off as an idea two years ago has been developed and voted on locally, with £76,000 funding from Fife Environmental Trust, the local Common Good Fund and Fife Council helping make the vision a reality.
He said: "The people here have decided what sort of project we will deliver. It's not a memorial; it is more a celebration of mining in the area. There's some play features and a number of display boards. The primary school has been involved and the children have created a mural that depicts the mining heritage of Townhill and that will go into the garden. We wanted it to have features that the children could play in as well as learn about mining."
Play equipment will reflect aspects of mining life, such as a wooden train to represent the pugline and climbing frame signifying the old ladders between levels in the pits, with information panels telling the story of children working in the mines.
A second phase to be added to the garden at a later date will incorporate a timeline pathway where park visitors can walk in the footsteps of the Townhill miners throughout the years with information panels depicting the village's history and the lives of the men, women and children who worked in the pits set into the path itself.
Comments
comments