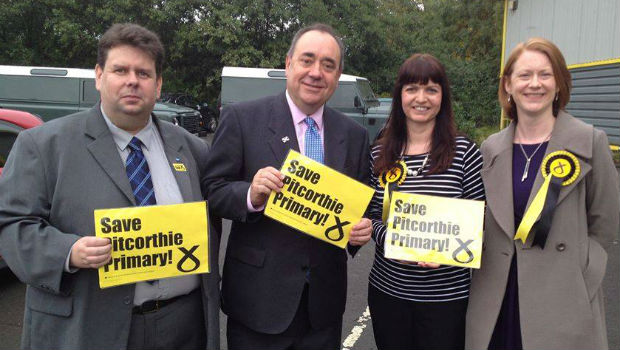 With less than a week to go until polling day in the Dunfermline by-election, One of the major issues of the campaign looks to be potential school closures in the area and the SNP have pledged continued opposition to them, criticising Labour-led Fife Council for bringing them forward.
SNP candidate Shirley-Anne Somerville has been campaigning on both this issue and for a midwife-led maternity unit in Dunfermline.
Labour candidate Cara Hilton has also met with anti-closure campaigners but has been heavily criticised by opponents as this appears to be a reversal of her previous position as a Fife Labour Councillor.
Ms Hilton has also hit out at the SNP over their selection of Bill Walker as a candidate.
Liberal Democrat by-election candidate Susan Leslie has questioned the SNP's silence on independence during the Dunfermline campaign.
Ms Leslie said: "The SNP have shown that they only have eyes for the referendum. Only four of their conference motions discussed something other than independence. Questions remain over why this obsession hasn't taken centre stage in Dunfermline."
The Conservative candiate James Reekie has focused on town centre regeneration and business development. He has suggested reviewing town centre business rates, abolish empty properties tax, look at free from 2pm parking.
The Scottish Green Party candidate Zara Kitson, has urged Fife Council to explore how to deliver a free insulation scheme to all households in the area, drawing on existing funds from the energy companies.
UKIP candidate Peter Adams said "When you look around at the subsidies that are being paid to these wind turbines, we are not gaining the benefit as far as the country is concerned."
Independent candidate John Black said that he wanted to see people in Scotland "demand better".
The full list of by-election candidates contesting the seat is:
Peter Adams – UK Independence Party (UKIP)
John Black – Independent
Cara Hilton – The Labour Party
Zara Kitson – Scottish Green Party
Susan Leslie – Liberal Democrats
James Reekie – Conservative Party
Shirley-Anne Somerville – Scottish National Party (SNP)
The Dunfermline Scottish Parliament seat is up for grabs following the resignation of disgraced Bill Walker who was jailed for crimes of domestic violence against his ex-wives. The election will take place on Thursday 24 October.
Comments
comments