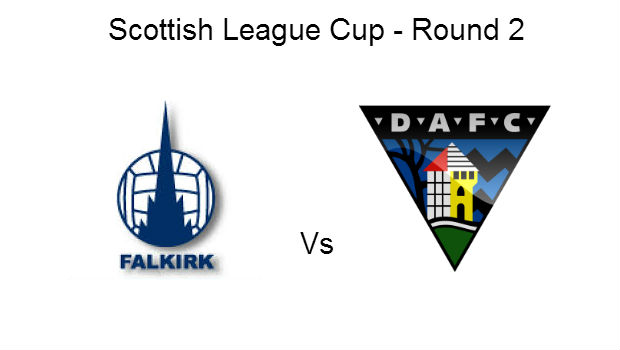 Falkirk 2-1 Dunfermline Athletic – Match Report by Lorna Morton
Scottish Communities League Cup 2nd Round – Tuesday 27th August 
The atmosphere at Westfield Stadium was always going to be somewhat fractious for a match between the home side Falkirk FC and the Pars, with their rivalry history and both teams certainly didn't dampen the fans' entertainment value.
Within the first 15mins both Falkirk and DAFC shared possession with both teams eager to get through to the next round of the league cup.
The opening goal on the hour mark unfortunately provided the Pars fans looking and sounding a tad quieter than when they arrived.
Normally Callum Morris would have been proud of his close range shot however putting it into his own net certainly wasn't going to earn him any brownie points by his fellow team mates, or Jim Jeffries for that matter.
It was at this point that it turned into a whirlwind of stramashes in front of goals at both ends, two Olympic ten point dives by Roberts, corners galore and an equaliser from Moore which came from Millen's 35yd free kick and assisted by Wallace in the box. In fact Wallace came close seconds later but he sliced his shot past the left hand post.
Falkirk kept up their continual 100mph gallop to the opposite end of the field when on the ball and it was a peach of a goal from Fulton as he was put through from a throw in and fired it into the net from close range.
My only complaint of the referee was, when Alston was subbed after a collision with Whittle, he took too long to allow Leahy on to take his team mate's place. However the home side ground out the result and go through to the next round.
Jim Jefferies said he was disappointed at the result but not at the display shown by his young team whom he described as "the first division team tonight."
Comments
comments