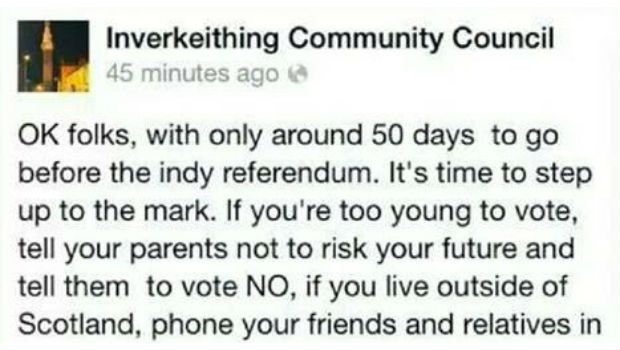 By Fay Sinclair
A Fife community council has come under fire for an internet rant against independence calling for Yes campaigners to be given "bloody noses".
Inverkeithing Community Council's official Facebook page last night posted a rallying call urging its followers, including those too young to vote or living outside Scotland, to persuade people to vote No in September's referendum.
The message branded Yes campaigners "separatists" and spoke of giving "Alex Salmond and his Yes cronies the bloody nose he deserves".
Angry Facebook users soon responded to what one user described as an "intemperate rant" and the post was quickly removed and an apology published.
The post said: "Apologies folks. The last post which has now been deleted was meant for the Admin's own FB page. ICC is, and always will be, non-political. Sorry again."
But by this time a screenshot of the offending post was being shared across social media.
Inverkeithing councillor Alice McGarry took to Twitter to comment: "I am appalled at comments made by Inverkeithing Community Council on its official Facebook page in relation to Indy debate. A supposedly non-political organisation making comments like "give Alex Salmond and Yes supporters a bloody nose" is simply not acceptable in a civilised debate. Post now has been taken down but was posted widely and has brought Inverkeithing Community Council into disrepute."
Calls have now been made for the person responsible to resign from the community council.
Cllr McGarry added: "Please don't judge Inverkeithing or the hardworking folk on the community council because of the unacceptable behaviour of this one person. I will be asking the chair of the community council to take appropriate action."
Update: The Facebook page has now been removed in it's entirety.
Comments
comments