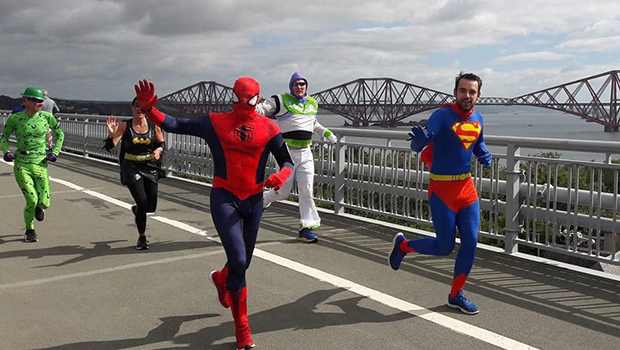 The Duloch Spiderman, aka Dave Roper is running between the Sick Kids Hospital in Edinburgh and the Sick Kids Hospital in Glasgow for charity.
The total distance is 49 miles and it is the first time he has attempted to run quite so far, his previous best being 25 miles. He is running double marathon distance and told us that he predicted it would likely take somewhere between nine and twelve hours but that he would "just be glad to finish".
Three weeks ago he ran from Fife to Edinburgh Sick Kids Hospital along with the other Fife Superheroes and raised £11.5k in donations.
The Duloch Spiderman commented:

"I was conscious that I had run to benefit the Sick Kids in Edinburgh previously and wanted to acknowledge the excellent work done by both Edinburgh and Glasgow Sick Kids Hospitals in a huge event. I also wanted to do something to mark end of lockdown and a return to something closer to normality."
If you would like to help the current fundraising effort, please click the link below:

Link to Fundraising Site
Comments
comments