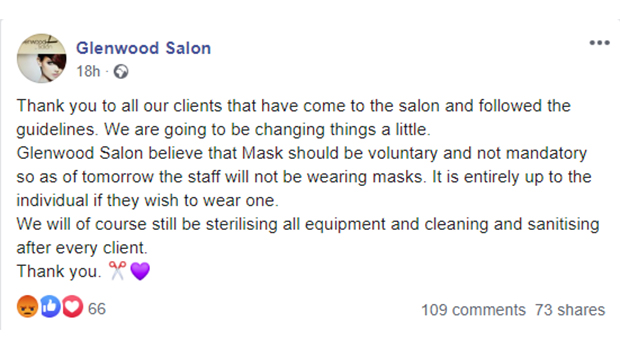 A hairdressing salon in Glenrothes has sparked controversy after saying on social media that their staff wont be wearing masks and that they are "voluntary" for customers. This goes against the regulations laid down by the Scottish Government on mandatory face coverings in what are called "close contact" retail settings.
The controversial Facebook post in question read: "Thank you to all our clients that have come to the salon and followed the guidelines. We are going to be changing things a little.

Glenwood Salon believe that Mask should be voluntary and not mandatory so as of tomorrow the staff will not be wearing masks. It is entirely up to the individual if they wish to wear one.

We will of course still be sterilising all equipment and cleaning and sanitising after every client.

Thank you. ✂️💜"
According to an interview with Edinburgh Live, the owner Brent Burnett has claimed to have conclusive proof that Coronavirus is a "hoax".
Scottish Government rules are unambiguous that in order to open close-contact retail services such as hair salons: "Staff should wear a visor in addition to a face covering. Visors are recommended but face masks are mandatory. Customers are also required to wear a face covering."
In terms of compliance and enforcement, the local authority, the Health and Safety Executive (HSE) and police can all get involved to ensure compliance, with the ability to levy fines or indeed close establishments in the event that an organisation refuses to take the necessary steps to protect public health.
Comments
comments