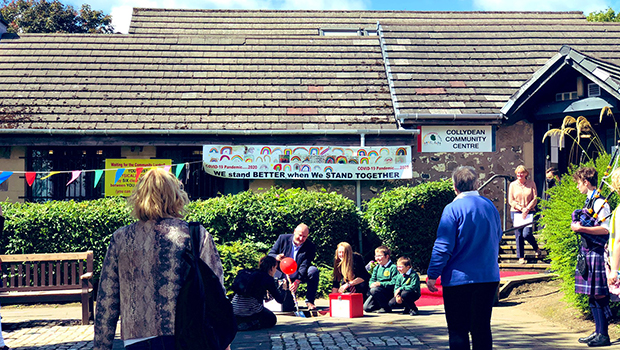 A time capsule has been buried at Collydean Community Centre ahead of major expansion and refurbishment works, highlighting what living through the Coronavirus pandemic has been like.
As part of the opening ceremony, two time capsules were buried containing a number of items to help tell the story of the centre and local community's response to the 2020 Covid-19 coronavirus outbreak, including a cloth face covering and medical mask, photograph of a shielding box and food parcel, and all the rainbow drawings that the children have drawn since March.
Collydean Community Centre was repurposed in March 2020 as a community anchor organisation following the Covid-19 coronavirus outbreak.
The centre received a £60,000 funding allocation from the Scottish Government to aid its response to Covid-19 coronavirus, which has been used to prepare and deliver emergency food parcels; deliver prescriptions and medical supplies; offer free smartphones and iPads to those with no internet access; and share funding with specialist agencies and grassroot organisations throughout Glenrothes and Fife.
Rose Duncan, the centre manager commented: "After all the work to raise the £252,000 of funding, as well as the four month lock down which everyone has just endured, I'm delighted to finally get going.
"The time capsule is a symbolic gesture which in decades to come may be rediscovered by a new generation of Glenrothes folk.
"The children decided that the coronavirus pandemic should be represented so we collected the items such as face masks that have now become part of everyday life for us now."
Glenrothes MSP Jenny Gilruth, who has been a long-time supporter of the community centre commented:
"I was delighted to join staff, volunteers and local residents to mark the beginning of these important capital works at Collydean Community Centre.
"Rose and her team have worked tirelessly to deliver a community-led response to the coronavirus outbreak and help some of our most vulnerable families and individuals.
"When future generations open the time capsules buried as part of today's ceremony, they will learn about how the strength of our humanity shone through in response to Covid-19 – the biggest challenge of our lifetime – and why Collydean Community Centre is the beating heart of our community in North Glenrothes."
The construction work is expected to take three months and the centre will continue to support local residents during this time.
Comments
comments