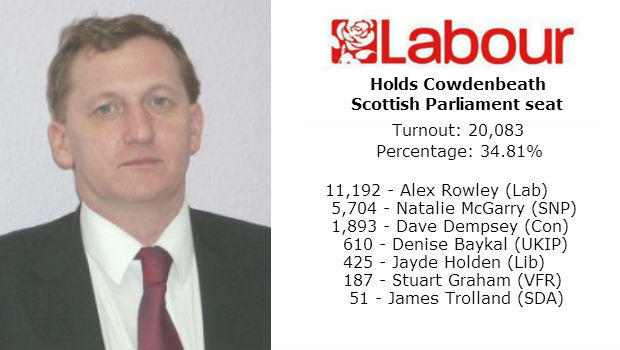 Fife Council Leader Alex Rowley has been elected as the Member of the Scottish Parliament for the Cowdenbeath constituency. His closest challenger was the SNP's Natalie McGarry who was some distance behind.
The win for Labour was very much expected. This is a heartland Labour seat, which was the only one in Fife to resist the SNP landslide at the 2011 Scottish Parliament elections. The seat was previously held by the popular Labour MSP Helen Eadie and the by-election was caused by her sad and untimely passing. Mr Rowley made moving mention of her in his acceptance speech and Ms McGarry of the SNP paid tribute to her too in a gracious concession speech.
Although the SNP did not win the seat, they managed to steal some of the headlines on the night with the revelation that they had canvassed over 11,000 people on the subject of Scottish independence and that 41% of people were in favour, compared to 36% against and 23% undecided. Veteran polling analyst John Curtice, speaking on the BBC said that he was "unsurprised" by the figure.
It was a bad night for the Liberal Democrats who were beaten into fifth place by the Conservatives and UKIP. Both the Lib Dems and UKIP lost their deposits for failing to reach 5% of the vote, as did Stuart Graham of the Victim's Final Right Party and James Trolland of the Scottish Democratic Alliance. Local Councillor Dave Dempsey of the Conservatives was third.
Comments
comments