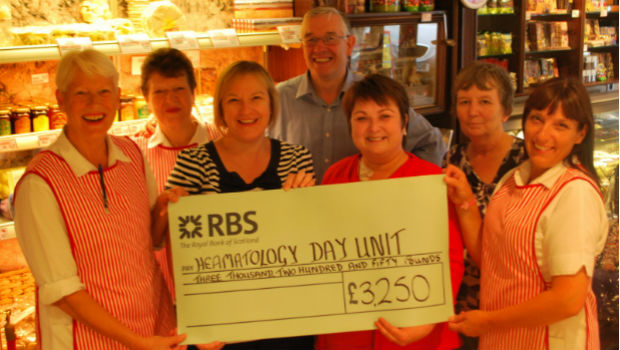 Pictured left – right: Dora Gage, Katie Cleary, Gillian Wilson, Eric Milne,
Julie Nicoll, Marilyn Henderson, Henia McLachlan.
Daredevil staff at a Fife bakery are leaping to the support of one of their colleagues, and have raised thousands of pounds for NHS Fife in the process.
42 year old Julie Nicoll, from Glenrothes, was diagnosed with Myeloma around two and a half years ago and has since been receiving treatment at the Haematology Ward at the Victoria Hospital, Kirkcaldy. Myeloma is a cancer arising from plasma cells, which are a type of white blood cell that is made in the bone marrow.
Julie's colleagues at Cupar's Fisher and Donaldson bakery are taking the plunge for their much-loved colleague by taking part in a forthcoming sponsored sky-dive at Glenrothes Airport. The big-hearted group has raised £3,250, with the money being donated to the Haematology Ward.
Julie said: "I have been taken aback by this wonderful gesture and the fact that my colleagues are raising money for NHS Fife only adds to my admiration for them. The staff at the Vic are fabulous and I couldn't ask for better care. They are always there for you and I always feel safe and humbled in their hands."
Dora Gage, from Leven, is taking part in the jump, she said:
"The idea for the fund raising sky-dive first came to me when I decided to tackle my fear of heights head-on by flying on board a helicopter. Afterwards, I thought that the next step towards conquering my fear would be to take part in a sky-dive and, if I was going to take on this terrifying challenge, I told myself I would be doing it for Julie."
Senior Charge Nurse on the Haematology Ward, Gillian Wilson, said:
"I am delighted to accept this cheque on behalf on NHS Fife and the fantastic amount that has been raised is testament to Julie and the high regard in which she is held by those who know her.
"Julie has been receiving treatment on the ward for around two and a half years and has become known for bringing in cakes for everyone. Whenever I would come in and see cakes lying about I would always know that Julie had been in for treatment – as you can imagine, she is a real favourite with the staff here!
"All of those involved in the fund-raising sky dive can be extremely proud of their efforts and the money that they raised will be put to good use on the ward."
Comments
comments