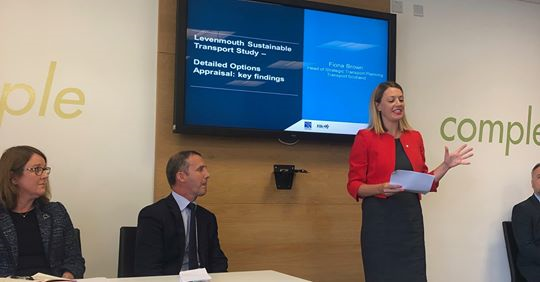 Jenny Gilruth, the Member of the Scottish Parliament for Leven has welcomed the announcement today by Michael Matheson,the Cabinet Secretary for Transport at the Scottish Government that approval has been given for the return of the town's rail link.

Ms Gilruth commented:
"After exactly 50 years the Leven Railway will reopen under an SNP Government – I could not be prouder. My constituency is going to be re-connected to the Fife Circle and to Scotland.
I hope we can reflect on how truly significant today's announcement really is.
I would like to thank the Cabinet Secretary for his commitment to Leven's Railway; he'll know how much this means to me as I never missed an opportunity to make the case to him directly.
The people of Levenmouth will now expect action and who could blame them after half a century. I will be watching closely to ensure that Fife Council and Transport Scotland now work to take Leven's railway forward at pace. This is a great day for Levenmouth".
Cabinet Secretary for Transport, Infrastructure and Connectivity Michael Matheson said:
"I am extremely pleased that the case has been made for the Levenmouth rail link and I look forward to seeing this project being taken forward to the next stages of design.
"The detailed appraisal work that has been carried out suggests that improved transport links, which give Leven a direct rail link to the capital, will lead to an enhanced local economy, bringing better access to employment and education and the potential for new investment. Easier and more sustainable travel options will make it easier for people to reach hospitals, schools and visit other areas of the country as well as giving better access Levenmouth.
"I would like to acknowledge the hard work of local MSPs, elected members and interest groups who have campaigned for the reopening of this line and I look forward to working with all partners to realise all of the benefits that improved connectivity can bring."
The project will now go forward to the detailed design phase with initial estimates of construction and preparations costs of around £70 million. Mr Matheson also committed an additional £5 million to a Levenmouth Blueprint fund available to partners to maximise the benefits of the Scottish Government investment in the area.
Comments
comments