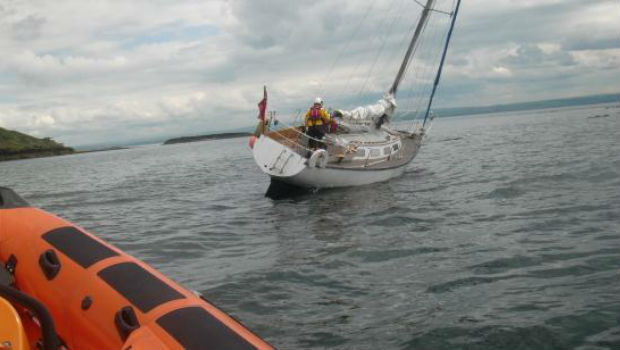 Photo Credit: RNLI / Kinghorn
Kinghorn RNLI responded to an incident around 2pm yesterday where a 30ft yacht had struck rocks and run aground while trying to enter the harbour at Inchkeith Island. They were alerted from a group on the island who had witnessed the incident, via Aberdeen Coastguard.
The yacht had a list of around 35° and the tide was still dropping. There was one person onboard and he was uninjured. The lifeboat crew arrived at the vessel around four minutes after launch and quickly assessed the situation and available options.
Helmsman Scott McIlravie said, "On arrival it was clear that the vessel was aground and leaning away from the main group of rocks. It was decided that the safest method was to attempt to tow the vessel back of the rocks as the tide still had around 1m to drop before low tide at 4.36pm. A crew member went onboard the casualty vessel to assist with the recovery and allow communications with the lifeboat. After several attempts to free the yacht we were able to remove it from the rocks and then we made sure it was not significantly damaged or taking on water. Once we were happy that the yacht was safe and the skipper was happy we left him to continue with his trip."
The crew on this occasion were Scott McIlravie, Neil Chalmers, Robert Rutherford, and Henry Wibberley. The lifeboat was launched by shore crew members Dave Galloway and Steve Robinson.
Kinghorn Lifeboat Station has a number of big events coming up. On Thursday 26th June the volunteer crew will carry the Queen's Commonwealth Baton to Kirkcaldy harbour, and then final preparations will begin for the annual Open Day on Saturday 12th July, between Noon and 4pm. This is a great day out for the whole family with a number of attractions such as beach games and stalls, with the highlight being a rescue demonstration with the lifeboat and a military search and rescue helicopter (tbc).
—
The Fife News Online team cannot praise the bravery of volunteer lifeboat teams enough. Not all incidents are relatively minor like this one and some involve a large element of risk to the rescue teams. Please consider donating to RNLI via https://rnli.org/donateorbecomeamember/Pages/Default.aspx
Comments
comments