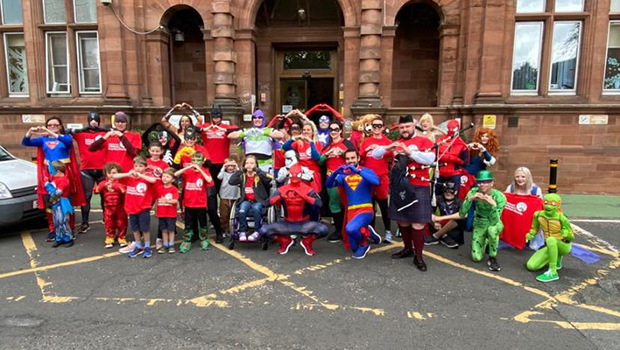 Caped crusaders the Dunfermline Superheroes have been entertaining children and adults alike with their antics during lockdown. Now though, they have gone a few steps further, raising money for the Edinburgh Children's Hospital Charity (ECHC) by taking part in a costumed charity run. Among the heroes were Spiderman, Buzz Lightyear, Batgirl and Superman.
A spokesperson for ECHC said: "What an incredible day! An enormous thank you to the Dunfermline Superheroes who this morning ran a whopping 22 miles as part of Lap the World! 
"Starting from the Glen Gates, the gang ran just under a marathon in full costume (!) before being piped through the Meadows and finishing up outside the Sick Kids to visit their many fans.
"The heroes have now raised an absolutely amazing £8,210 for children, young people and families in hospital, as well as bringing a whole lot of smiles to everyone who saw and waved to them today."
The Duloch Spiderman, Dave "Spidey" Roper said: "Meeting the rest of the Team at the Meadows was simply amazing, a huge round of applause as we finished the final 50m which gave me goosebumps
"We all walked together, piped by the amazing Dean Saunders Piper from the meadows to the hospital, and when we turned into the Hospital entrance and saw the kids at the windows and the hospital staff, I'm not ashamed to say I welled up and found it hard to swallow.
"I'm glad I had a mask on so I could hide my emotions!" 
If you would like to support the superheroes, visit: 
https://www.justgiving.com/team/DunfermlineSuperheroes
Comments
comments